2013 Conference
In this Section: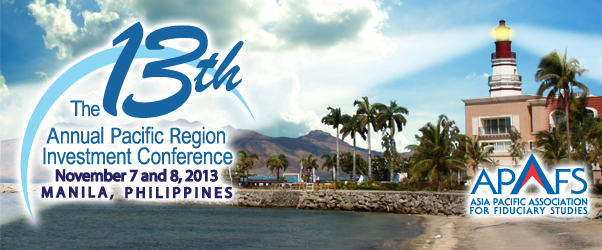 We are pleased to announce that 13th Annual Pacific Region Investment Conference was successsfully completed on November 7 and 8, 2013 at the New World Makati City Hotel, Manila, Philippines. The Conferencel shared fresh insights coupled with information on the latest market trends that will equip you to become one of the best fiduciaries in the region!
Although the conference has come to a close, we invite you to stay connected with us through our APAFS website. To find Conference materials, such as speaker presentations, and videos, please see 2013 APAFS QUICK LINKS options below. You may also click here to view highlights on what took place during the APAFS week in Manila.
2013 APAFS Event QUICK LINKS:
Attendance at the Pacific Region Investment Conference will provide the necessary annual Continuing Education (CE) credits for holders of the AIF® and FE® designations. Historically registrants at the Conference have also earned valuable CE's towards CPE™, CLE™ and CIMA™ requirements as well.
For any inquiries, please contact us directly.